Specifications
in South Africa,Libya,Algeria,Ethiopia,Angola,Luxembourg and Romania, we have exported and installed steel warehouse



Bos of excellent quality and most competitive price level,We have exported our steel structure projects and buildings to Africa area only:

a) North Africa:

1.Algeria :3500m2 steel workshop building

2.Libya: 2500m2 steel factory building

3.Angola: 1500m2 steel warehoue building

b)East Africa

1.Ethiopia:3000m2 steel factory building

2.Kenya: 1000m2 steel warehouse

3.Tazania :1576m2 steel warehouse building

4. Tanzania: steel structure truck repairing workshop building

c)West Africa

1.Ghana :8 steel building

2. Nigeria 4 steel structure factory building

d)Middle Africa:

1.Cameroon: 3000m2 steel workshop building

2.D.R.Congo: 1750m2 steel warehouse

e)South Africa

1.Zambia:7296m2 steel warehouse

2.Angola:16000m2 steel workshop building

3.Zimbabwe: 12000m2 steel factory building

4.Angola:4000m2 steel structure workshop building

5.Angola :4360m2 steel structure workshop building
1.important remarks
A.Congo,Algeria,Mozambique,we design,fabricate,produce,install steel structure warehouse ,with 5 cranes,each 20mt capacity.
B.we could deliver our engineers to supervise your installation
2.options
1)Steel Structure Building
2)Metal Building
3)Steel Structure Warehouse
4)Workshop/Factory/Shed/Hangar/Gagrage
5)Steel Beams Other Riveting and Welding Parts
6)OEM Projects
7)Turn Key Projects,including design,installation,interior decoration
3.specifications
1)Different Sizes:MOQ is 10m2.length x width x eave height,roof slope
2)Type: Single slope, double slope, muti slope; Single span, double-span, Multi-span, single floor, double floors!
3) Base: Cement and steel foundation bolts

4) Column and beam: Material Q345(S355JR)or Q235(S235JR) steel, all bolts connection! Straight cross-section or Variable

Cross-section!

5) Bracing: X or V or other type bracing made from angle, round pipe,etc
6) C or z purlin: Size from C120~C320, Z100~Z200

7) Roof and wall panel: Single colorfull corrugated steel sheet 0.326~0.8mm thick,YX28-205-820(820mm wide),

Sandwich panel with EPS, ROCK WOOL, PU etc insulation thickness around 50mm~150mm, width 950mm or 960mm!
8)Accessories: Semi-transparent skylight belts, Ventilators, down pipe, outer gutter, etc
9) Surfrace: Paint or hot dip galvanize!
10) Packing: Main steel frame without packing load in 40'OT, roof and wall panel load in 40'HQ!
4 design parameters
If you need we design for you, pls supply us the following parameter together with detail size:

1)Live load on roof(KN/M2)

2)Wind speed(KM/H)

3)Snow load (KG/M2) if have

4)Earthquake load if have

5)Crane (if have), Crane span, crane lift height, max lift capacity, max wheel pressure
Project:Steel structure Aircraft maintenance hangar facilities
Location:Guangdong,China
Building type:aircraft maintenance hangar facilities
Construction area: 114421m2
Weight: 9513.09 metric ton
Layout(PDF):
Structural steelwork description:
New airport aircraft maintenance hangar facilities is locaed in South Area of New airport,total construction area is 114421m2,construction area of steel structure building is 23100m2,total structural steelwork consumption is 9513.09 metric ton,it is one of the biggest aircraft maintenance hangar facilities for span and covered area during finished and undertaking hangar facilities.
No.11 steel hangar is the centre of whole hangar,the length in south-north direction is 409.04 meters,the width in east-west direction is 134 meters,the maximum span of steel structure is 100 meters + 150 meters + 100 meters,the depth is 102.91 meters,it could simultaneously allow 4 wide-body jets to maintain.
No.11 steel hangar is divided into 3 areas:area 1 and area 2 is maintenance area,area 3 is painting area.Structure is steel structure column plus steel roofing system.The steel roofing consists of multi-grades steel truss system in longitudinal and
lateral direction,and roof bracing system:
1. The main truss node adopts welded H steel nodes;
2. The primary member adopts hot rolled H steel,BS5950,50 Grade,British Standard;
3. The roof bracing system adopts hot-rolled square tube and circular tube , BS5950,50 Grade,British Standard.
The construction of steel roofing in maintenance area adopt special techniques:
installing into one part on the ground,hydraulic hoisting through computer control.
The main construction characteristics and difficulties:
1. Huge hoisting area:the total hoisting area covered is 250m×88m,it is the biggest single building,using integral hoisting techniques to hoist in one time currently in CHINA.
2. Big hoisting weight,big span:the weight reaches 4432t,clear span in the structure is 150m,they are both rare in the similar steel construction projects.
3. Much more Hoisting point-positions:totally 13 hoisting point-positions,32 lifting jacks,the maximum capacity of jacks is 360t.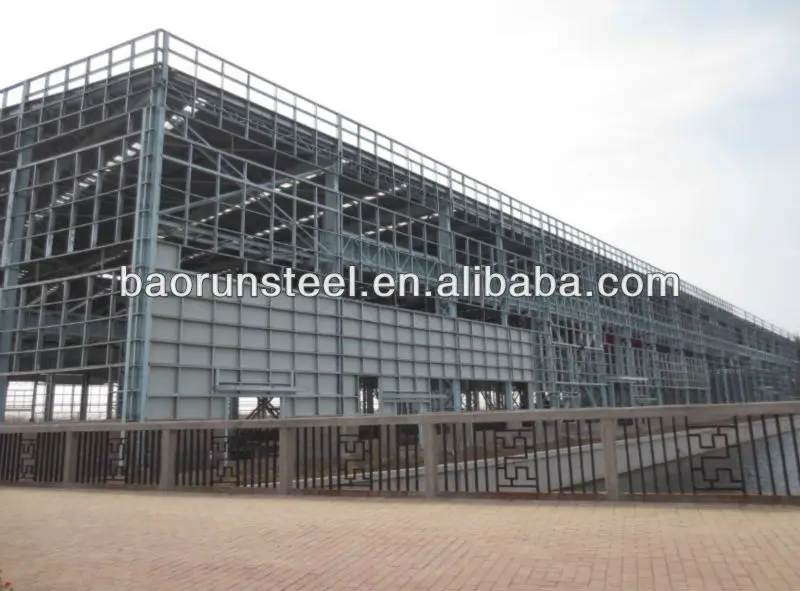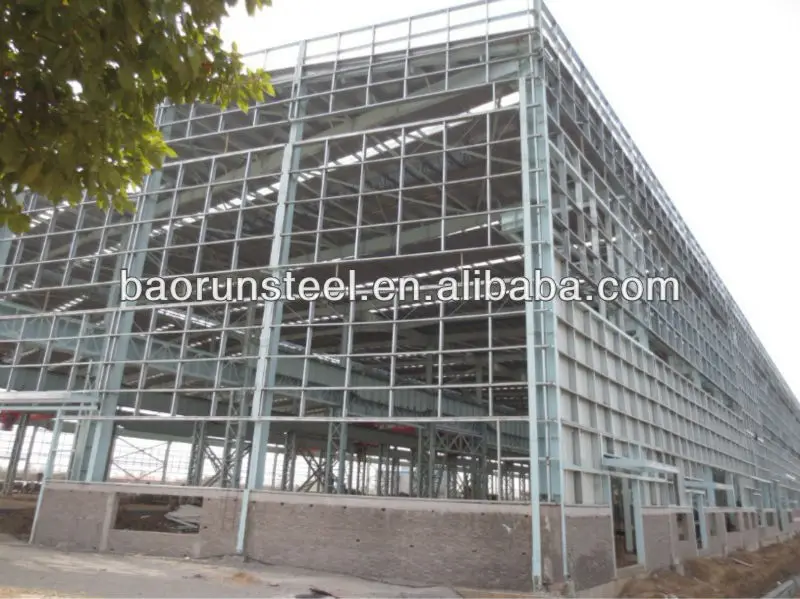 Thermal transmittance criteria
The buildings are designed to fulfill the following thermal transmittance criteria:
| | |
| --- | --- |
| Building component | Maximum U-value (W/m2K) |
| Roof | 0.25 |
| Exterior walls | 0.3 |
| Windows | 2 |
| Doors | 2 |
| Skylights(smoke vents) | 2 |
| Weighted average for all wall components | 1.1 |
We design,manufacture,fabricate,export,install our steel warehouse steel buildings steel structure shopping malls in Cambodia.
Kuwait steel structure Quay/steel structure Dock Port Facilities
Kuwait steel structure Quay/steel structure Dock Port Facilities
Project Description: 550ton
Project Type: steel structure pier,steel structure Dock steel structure Tower, steel structure Service Tower, Bridges,steel Ladders, Stairs, steel structure Platform, etc
Time: May~June 2010
Location: Kuwait
Steel structure industrial workshop building of Qingdao Pohang Stainless Steel Co.,Ltd.(South-Korea funded) covers 50000square meters,
1) its structure steelwork consumption reaches more than 5000metric tons.
2) Its clear span of single span is 30 meters
3) And 30t/20t/25t hoist was installed inside the building
4) Its eave height is 28 meters.
5) There are following auxiliary steel structure industrial plant/workshop/warehouse building for the main steel structure industrial workshop building,the total building area reaches 35000 square meters,including Qingdao Puxin Stainless Steel Co.,Ltd,Qingdao Yinfeng Stainless Steel Co.,ltd.,Qingdao Hanshan Metal Co.,ltd.,Qingdao pujin Steel Deep Processing Co.,ltd.(Korea funded).
6) The building types include:
steel structure Industrial Plant/Factory
steel structure Industrial workshop
Steel warehouse /steel structure godowns
Steel structure commercial facility
Load criteria
The building is designed according to Eurocode,Icelandic National Annexes and the Icelandic Building Regulation.We have sent to the owner the load to foundations from the steel structures for each load case.
1. Permanent dead load:to be designed by us
2. Free dead load:Free dead load on the roof from installations is assumed=0.5KN/m2.
3. Crane load:the crane is 20mt crane,the load in crane specifications are characteristic loads.
4. Wind load: Vb,0= 36m/s,Terrain category = II For z=8.0 →Qp=1.80 KN/m2
External pressure coefficients is according to Eurocode
Internal pressure coefficients is assumed = -0.30/+0.20.
5. Snow load: s=1.26 x u Kn/m2,shape coefficient (u) is according to Eurocode.
6. Earthquake load:Design ground acceleration= 0.1g.
Deflection criteria:
This steel building is classified as a C-building according to the Icelandic building Regulations.Maximum deflection for building in class C is as following:
| | | |
| --- | --- | --- |
| | Total load | Variable load |
| Roof | L/150 | L/200 |
| Walls | - | L/200 |
| Door frames | - | L/150 |
| Window frames | - | L/300 (max 8mm) |
our cutting and drilling machines: