Product Description
manufacturer : Qingdao Xinguangzheng Steel Structure Co.,ltd
construction warehouse steel structure godown
learn more about product material
steel structure frame

construction warehouse steel structure godown

roof and wall material

EPS sandwich panel . fiberglass sandwich panel , rock wool sandwich panel

sandwich panel thickness

between 50-100mm

material of door

sandwich panel door or security door

material of window

plastic steel window or aluminium allow edge window

Packing

directly loaded into 40ft GP ,40ft HQ , 40ft OT

features

1.Easy to assemble and disassemble for several times without damage

2.Cost saving and transportation convenient

3.Anti-rust and normally more than 30 years using life

4.Quick installation, easy disassembly and moving.

type and size

professional engineer can according your require to make any change of this house , also we can OEM

Our Princle :Good quality ,Good service ,beautiful design
construction warehouse steel structure godown about factory :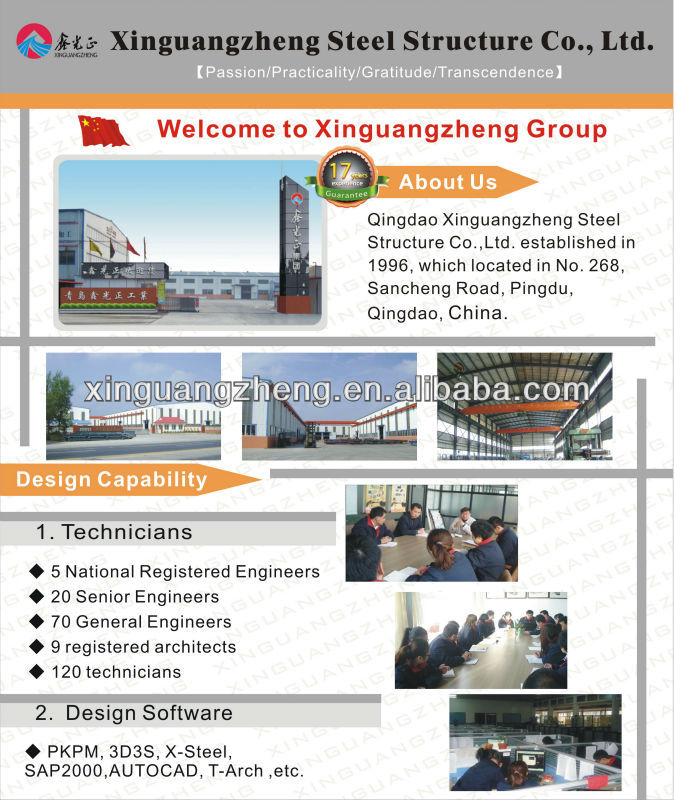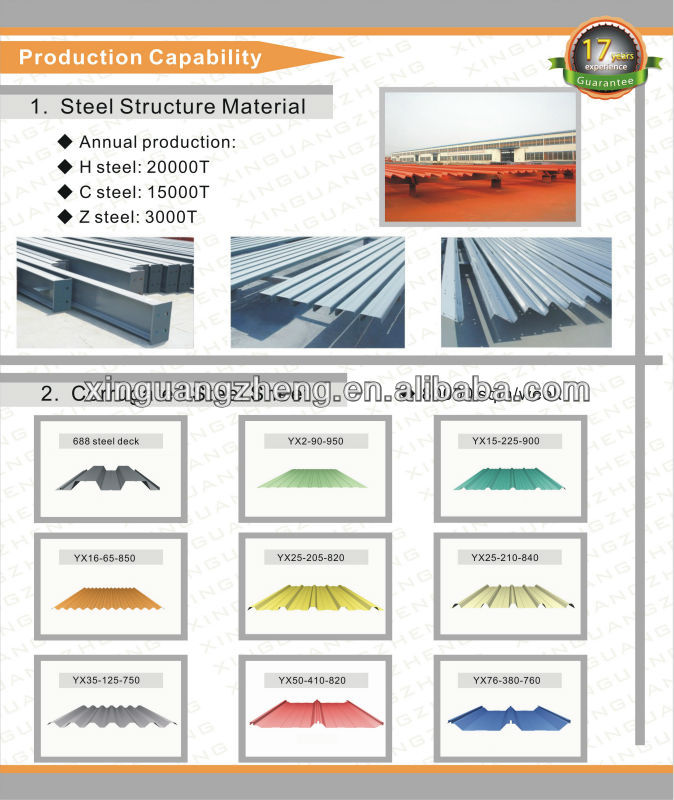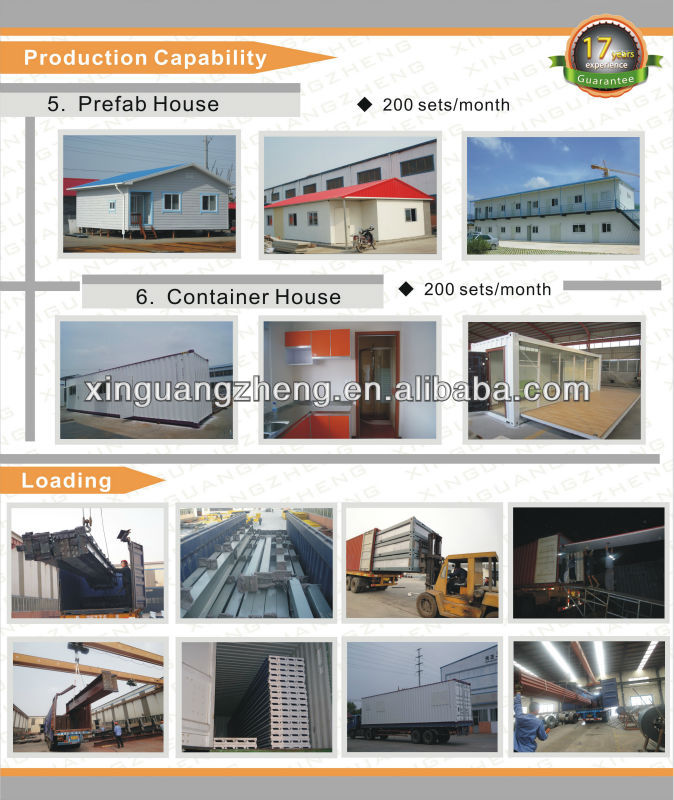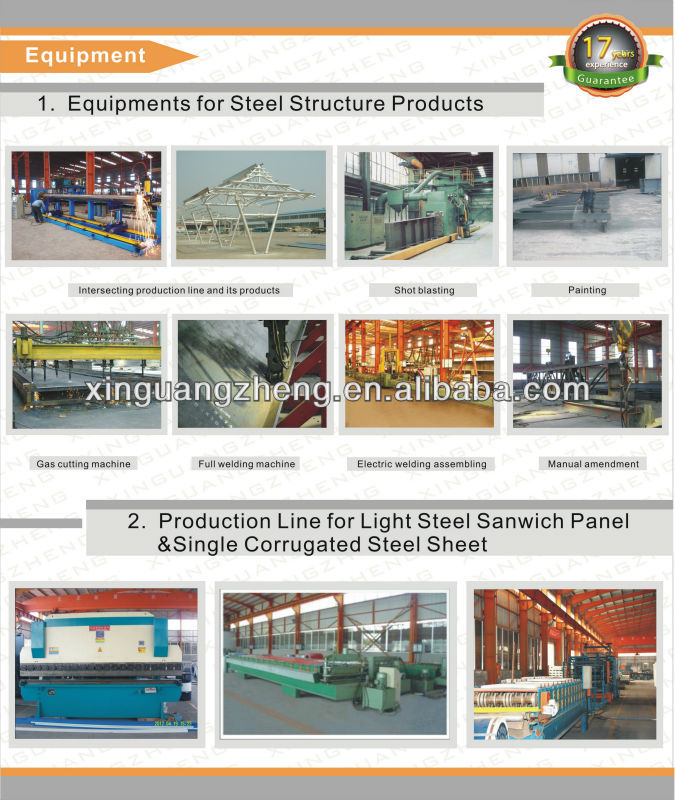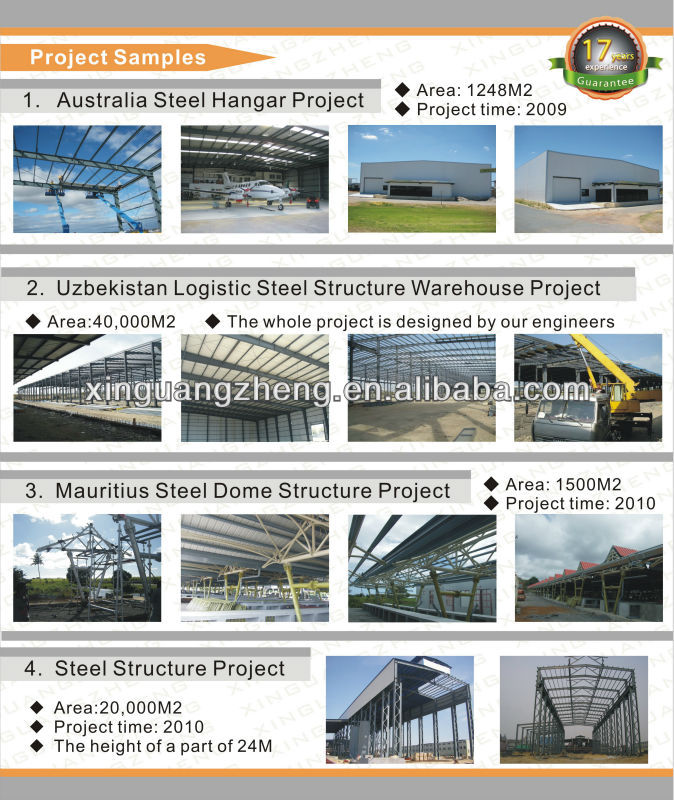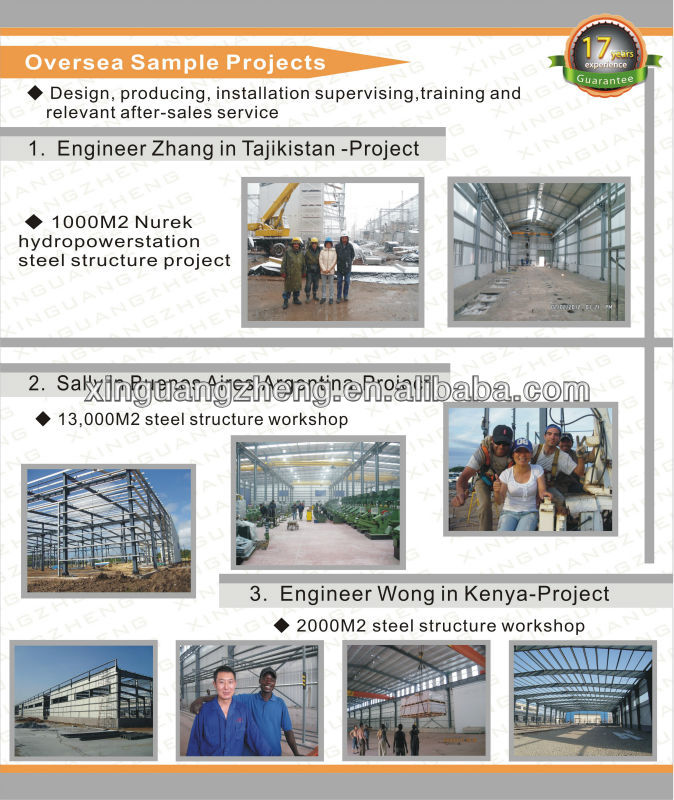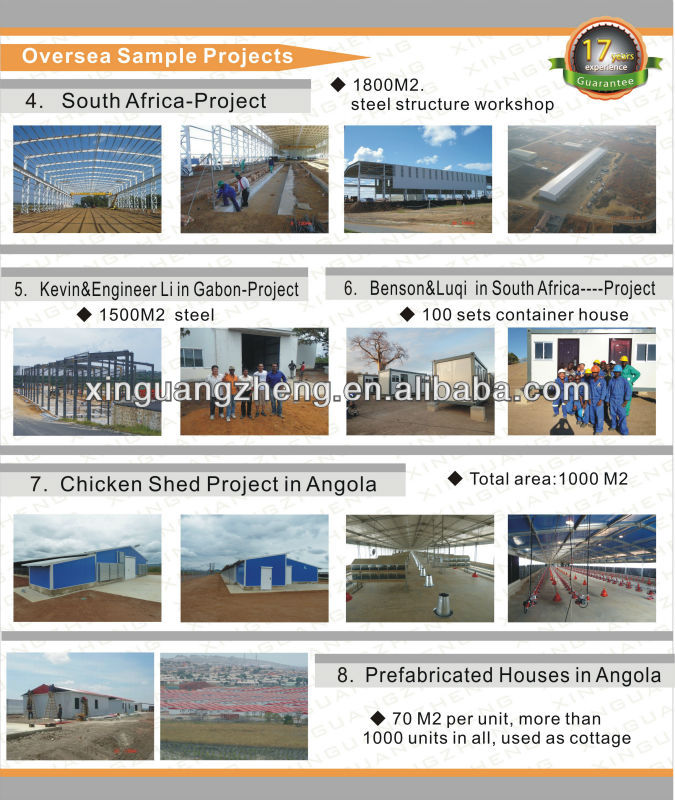 construction warehouse steel structure godown Technical advantages
1) Anti-seismic: most house use slope roofing which usually use truss system. The roofing system will be very strong after the truss was sealed with panels and gypsum board. This kind of structure system can against 8-degree earthquake, and has high strength of loading capability.
2) Good Performance for against wind: light weight, high strength, good integrity, easy to deform, all these advantages make light gauge steel building good performance for against wind. It can resist the cyclone at the speed of 70m/s, thus protecting the building and peoples life.
3) Durability: light gauge steel building uses cold-formed galvanized steel, thus avoiding rust in the course of construction and use, and makes the life span of the structure 100 years.
4) Heat Preservation Performance: Heat preservation: we use glass wool as insulation and effectively avoid the phenomenon of cold bridge of the wall body. The heat preservation effect of 10mm glass wool is equivalent to 1m-thick brick wall.
5) Fire Resistance: As the experiment data shows, light steel system can resist fire for four hours and can effectively slow down the fire spreading.
6) Sound-proof Performance: Sound-proof performance is an important item for evaluating the accommodation. Light steel system adopt hollow glass for windows, which can soundproof for 40 dB. The light steel wall system can soundproof for 60 dB.
7) Healthiness: dry construction, minimum waste to the environment, and 100% recyclable of the materials, all these advantages are conform to the consciousness of environmental protection. Whats more, the materials we use are all green materials, which are good for peoples health.
8) Comfort: light steel wall system adopts highly efficient energy-saving system with respiration function to adjust the humidity of the room; with ventilation function in the roof, ensuring the ventilation and hot scattering of the room, thus make the room more comfortable.
9) Termite resistant: the light steel buildings can completely resist termite invasion, thus extending the life span of the house and decrease the repair cost.
10) Fast Assemble: Dry construction and without the influence of season. A 300-building only need 5 workers for 20 days from the foundation to everything finished.
11) Environmental friendly: Materials are 100% recyclable, and no pollute to the environment.
12) Energy-Saving: Efficient and energy-saving wall has good performance on heat keeping and sound proofing, and can achieve the energy-saving standard for 85%. (lightsteel house, lightsteel housing, prefabricated house)
construction warehouse steel structure godown Our Culture
Enterprise Mission : Let the Chinese traditional industry lead the world
Enterprise Spirit : Passion , Practicality , Gratitude , Transcendence
Business Philosophy : Client oriented
Working Style : Conscientious , Efficient , Credible
Action Rules : Ensure to complete work , No excuse
Quality Culture : Moral personality decides product quality , quality is life
construction warehouse steel structure godown Packaging & Shipping