steel warehouse
1. easy construction
2. low cost
3. good looking
1. Our prefab steel warehouse is fast and easy erection. Installation with no errors because we adopts pre-installation before we ship the steel structure to ensure the quality of our steel structure products
2. The advanced design can decrease much of the work for civil construction design and shorten the constructing period. Almost no welding at the spot can make the installation much quicker.

3. All the materials of our steel frame are C beam, Z beam, H-shaped steel and the galvanized steel plate or sheet. The grade is upon Euro norm S355JRC or American Norm ASTM A572 grade 50 or equivalent to Q345b.
4. Wall panels and roof panels can be corrugated sandwich board or corrugated steel single panels.
5. Light tile is as per the customers requirement.
6. Use: commonly used in industrial factories, warehouse, commercial buildings, distribution centers, hangars and multi-story steel buildings.
steel construction details:
Our light steel construction can save time and can be installed in any weather. Also the house have advantage of is fire-proof, heat/cold-insulation, non-shrinking and enlarge the work size and have little pollutions, we produce and install different kinds of light steel construction which have a good framework. They are safe, easy to install and disassemble, also can be used multiple times without special tools. Special used in warehouse, workshop, temporary office, etc. We have an excellent designing team and we can produce according to the customers' requirements.
Steel construction Features:
1) Prefabricated and customized design
2) Low foundation cost, thanks to the light weight of the structure itself
3) Easy construction, time-saving, and Labor saving
4) Flexible layout, beautiful appearances, and higher space efficiency
Steel Construction Technical Parameters :
Item Name

steel construction

Main Material

Q235/Q345 Welded H Beam and Hot Rolled Section Steel

Surface

Painted or Hot Dip Galvanized

Roof & Wall Panel

EPS Sandwich panel /Single Corrugated Steel Sheet/ Colour sheet with Glass-wool, for customers choose

Window

PVC Steel or Aluminum Alloy

Door

Sliding Door or Rolling Up Door

Service

Design, Fabrication and Installation

We can make quotation according to customer's drawing or requirement

(size by length/width/height and wind speed), offering a free design

drawing and all detailed drawings for installation.

Packing

According to customer's requirement

Load into 40/20GP,40HQ or 40OT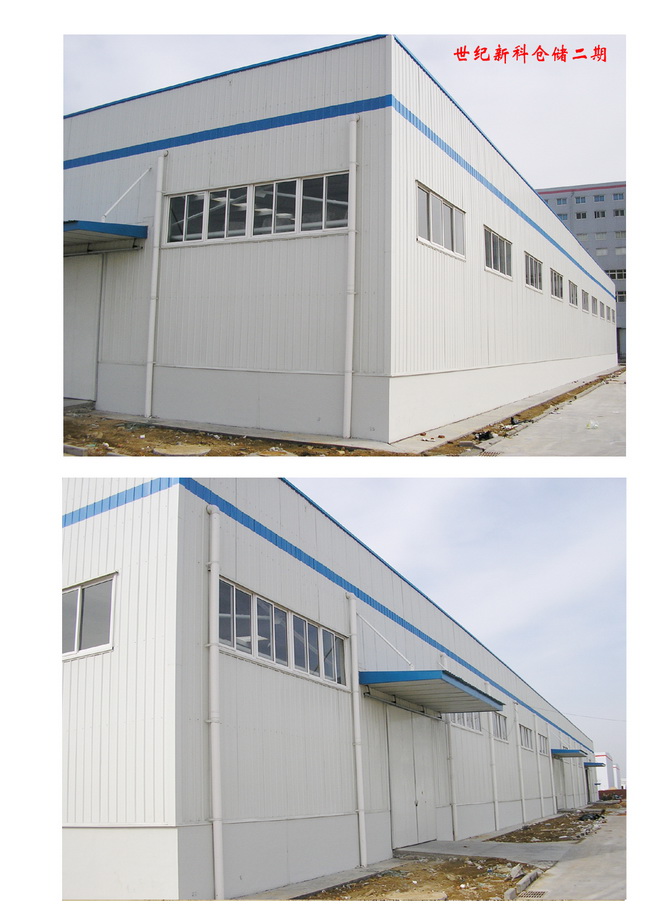 Product Description:
The load bearing parts for steel structure workshop are mainly
steel structures, including steel columns, steel beams,
steel structural basements, bracing systems for wall and roof.
Steel workshops are divided into Light Steel Workshops and Heavy Steel
Workshops.
The Main Structure are usually made of Q345 Steel while the
Purlins and Bracing System are made of Q235 Steel.
They are the most common steel materials used for steel structure
in China.
Advantages of Steel Structural Workshop

:
1).Large span for great strength with light deadweight;
2).Short finishing time and low cost;
3).Fire proof and rust proof;
4).Convenient to assemble or disassemble.
Technical Parameters:
1.Main Structure: Steel Welded H Section
2.Purlin: C Section Channel or Z Section Channel
3.Roof Cladding: Sandwich Panel or Corrugated Steel Sheet with Fiber
Glass Wool Coil
4.Wall Cladding: Sandwich Panel or Corrugated Steel Sheet
5.Tie Rod: Circular Steel Tube
6.Brace: Round Bar
7.Column & Transverse Brace: Angle Steel or H Section Steel or Steel
Pipe
8.Knee Brace: Angle Steel
9.Wrapping Cover:Color Steel Sheet
10.Roof Gutter: Color Steel Sheet
11.Rainspout: PVC Pipe
12.Sliding Sandwich Panel Door or Metal Door
13.Windows: PVC/Plastic Steel/Aluminum Alloy Window
14.Connecting: High Strength Bolts
1. Wall and roof materials : EPS/Rockwool/PU/PIR Sandwich Panel
2. Color: normally, white gray, blue and red;
3. Moudle: Single slope or double slop;
4. Window material: Plastic steel or aluminum, swing or slidding
5. Door: EPS Sandwich panel, PU sandwich Panel, Plastic steel or Aluminum.
Material Standards:
1. International standard: Fe360B
2. Chinese standard: Q235B/ Q345B
3. European standard: A37-2
4. Japanese standard: SAPH38(G3133-87)
5. American standard: A283GRC

Function:
Beam, column used as various steel structure beam and column on workshop, warehouse, office building and power plant

Coating:
1. Painting:Alcohol acid paint, epoxy zinc rich paint and chlorinated rubber paint. Various colors
available.
2. Hot dip galvanizing: The hot dip galvanizing thickness is about 60~120 microns and
275~500g/square meters
Steel structure Factory Features:
1. Reliable structure:
light steel structure is the frame of our building, which meets the design requirements of steel structure.
2. Easy to install and disassemble:
Standardized components make it easy to install and dismantle. It is especially suitable for emergency projects.
3. Attractive appearance:
Because prepainted steel sheet or sandwich panel is adopted, the whole structure is handsome.
4. Environment friendly and economical:
Reasonalbe design makes it reusable. The reusable character makes it environment friendly and economical.
5. Cost efficient:
First class material, reasonable price, once and for all investment, low requirements for base and short completion time make it cost efficient.
6. Relocatable:
It can be relocated up to 10 times. It has 15 to 20 years durability