Specifications
Modular container house
1. Easy installation & disassemble
2.Customized Design
3.Good water-proof



Specifications

Modular Container House


1.Flexibility Design and Nice Appearance
2.Easy assemble&disassemble
3.Competitive price with high quality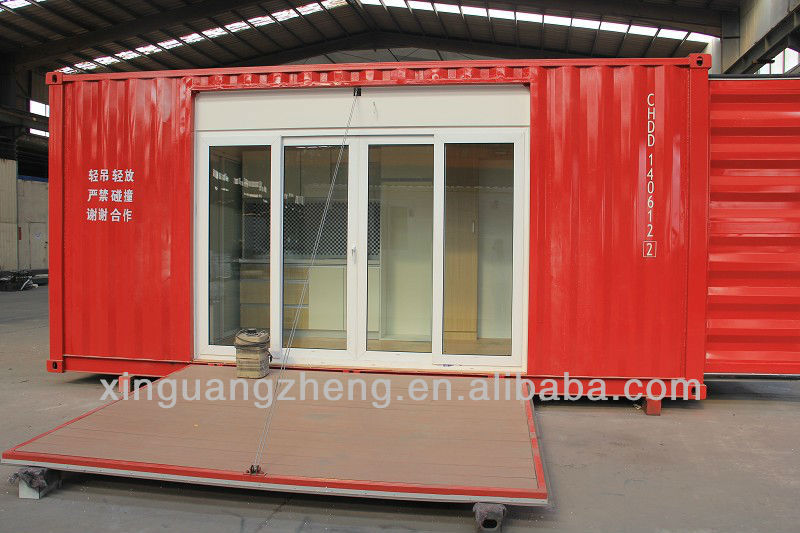 Prefab Home/Container House
Container house modified from standard shipping container,
strong, durable, customized decoration as required.
Features:
1. Modified from ISO standard sea container
2.Cost saving, easy transportation, easy installation, easy maintenance
3.Long lifespan
4.Enviorment friendly
Material:
1. ISO standard shipping containers with light steel frame for structure
2. Insulation material: EPS or Fiber glass wool
3. Wall: fiber cement board or Gypsum board
4. Ceiling: fiber cement board, Gypsum board, integrated ceiling or PVC ceiling
5. Partition wall: light steel frame with fiber cement board or Gypsum board
6. Windows: PVC or Aluminum sliding window or roller shutter window
7. Doors: Steel security door, sandwich panel door, sliding door
8. Floor: composite wooden floor tiles, Vinyl cover and ceramic tiles for bath room
9. Electrical system: AS/NZS standard, BS standard, VDE standard, UL standard, GB standard etc
Application:
Modified Sea Container can be used as accommodation, office, shelter, camp, hotel, factory, ware house, kitchen, dining room, etc. We can use different size containers to design into one or above complex units.